Aviomar Flight Academy has one of the most numerous and homogeneous fleets in Italy, with 11 aircraft Cessna 152, 3 Cessna 172 Skyhawk, 3 Cessna 172RG and 3 twin-engines aircraft (1 Piper PA34-200, 1 Piper PA23-250T, and 1 Diamond DA42).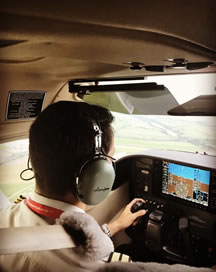 The fleet chosen by AVIOMAR comprises only aircraft from the American manufacturers Cessna and Piper. These manufacturers have proven, in over 80 years, to manufacture the safest and most reliable light aircraft, being Safety of utmost importance for the training of young pilots. These are clearly the most popular aircraft in flight schools around the world.
Our aircraft are all maintained exclusively by our EASA approved maintenance department, which guarantees safety is never jeopardised in any way. The checks include daily inspections by certified technical staff in accordance with the highest European standards.
The maintenance programs of AVIOMAR include checks and maintenance interventions which are largely superior than the minimum required by the European regulations.
Galleria Flotta