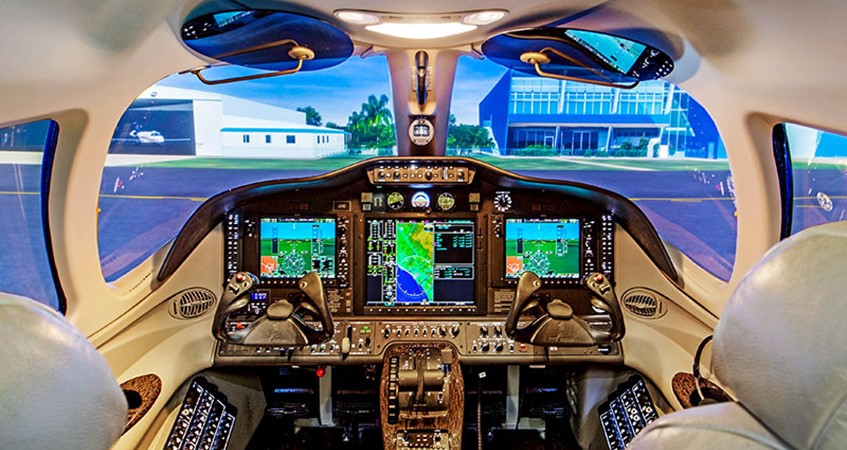 The Cessna Citation Mustang C510 simulator is a six-axis full-flight simulator with an electric motion system used primarily for initial and recurring training of Cessna Citation Mustang executive aircraft pilots. This flight simulator is certified ENAC/EASA FFS Level D, the highest level of fidelity available among professional flight simulators.
The Cessna Citation Mustang C510
The Cessna Citation Mustang is a business jet (Very Light Jet category) built by the Cessna Aircraft Company in Independence (Kansas). The Mustang, in the basic configuration, has 4 passenger seats in the rear of the cabin, 2 cockpit seats for pilots, and a toilet in the central section. Like other aircraft in its category, it is approved for single-pilot operations though most commercial operators use it on multi-pilot operations (2 pilots).
The aircraft is powered by two Pratt & Whitney PW615F-A turbofans installed on a T-tail.
More than 470 aircraft of this type were produced.
Full Motion System
The simulator is fitted with a 6 degrees of freedom electric motion system. This motion system allows the simulator to reproduce the movements, accelerations, decelerations, turbulences, buffets and vibrations perceived in an actual flight, thus ensuring a high level of fidelity and realism in all training exercises.
G1000® Synthetic Vision Technology
This simulator is equipped with a complete avionic package SVT ("Synthetic Vision Technology"), a system which replicates the 3D representation of the environment and surrounding obstacles while flying in dark conditions or reduced visibility.
Advanced Visual System
The simulator is equipped with a visual system "Rockwell Collins" Wide View at 200x40, allowing specific training on airports with particular orographic and instrumental complexities (for example: London City, Innsbruck, Salzburg, Sion, Madeira and Lugano).
The visual system installed is compliant with the highest "Level D" requirements and offers the following features:
Endless image collimation

5 000 000+ polygons visible at 60hz

1 000 000+ 60hz light points

Varying levels of rain, snow, hail, puddles and light reflections

Multiple weather fronts, fog, thunderstorms, winter scenes, volcanic clouds

Over 500 airports are available, including 21 "custom"

High level of fidelity with visual effects such as ground traffic, airport staff and equipment, variable lighting, shadows, reflections and more

Custom sceneries: EIDW, LIMC, LIRN, EGLC, LFLB, LIML, LOWI, LOWS, LFPB, LFMN, LFKJ, LIMJ, LSGG, LSGS, LSZA, LFLL, LIEO, LIRQ, LGMK, LIRA, LPMA, LATI.
Additional capabilities
Smoke generator

Icing, UPRT, Full Stall

UPRT Tablet

Steep Approach

Low Visibility Take-off

Windshear profiles

Weather radar

Synthetic Vision Technology (SVT)

LNAV, LNAV/VNAV, LPV, RNP AR Approaches

Electronic Charts and Checklists
Simulator Lease
Our simulator is certified EASA Level D and may be used for the following trainings: type rating (initial and renewal), PBN, TRI/SFI, operator recurrent training.
---
RICHIEDI INFORMAZIONI